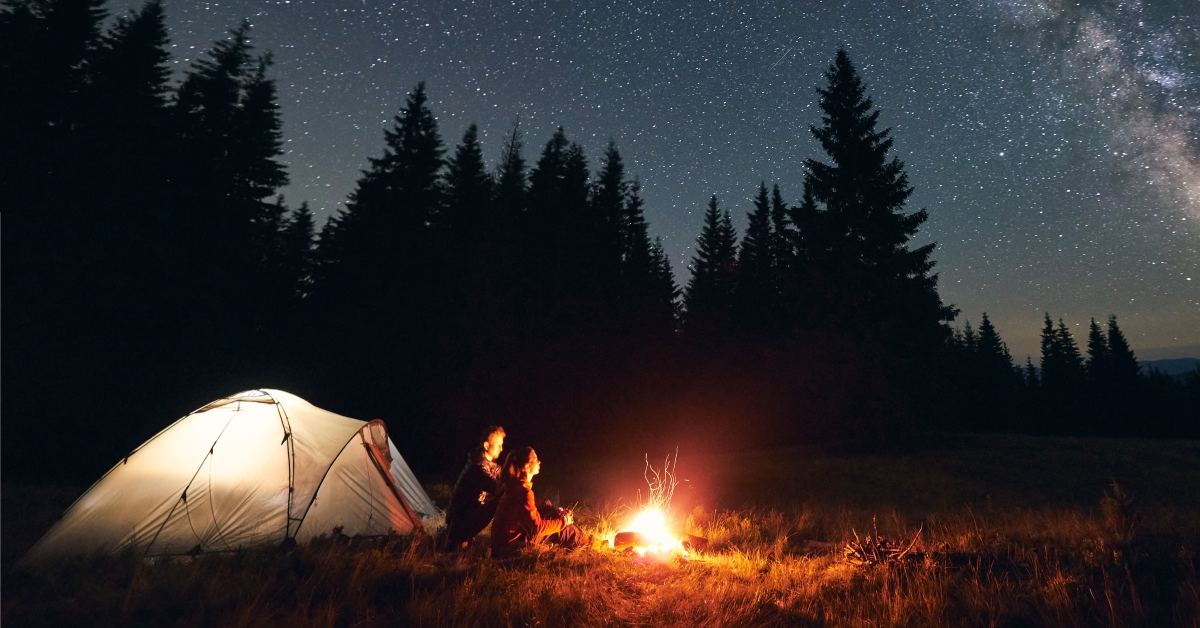 13 Feb

7 Ways to Enjoy a Romantic Camping Trip in Lake George

If all this talk of Valentine's Day has you thinking about a summer getaway with your favorite person, we have a suggestion for you! Plan a romantic camping trip at one of our Lake George camping sites. Check out our seven ideas below for how to add some romance into your trip, plus, scroll to the bottom to get in on a great deal this week on our cottages!

1) Choose Cabin or Tent Camping (Or RV)
First, what type of camping are you going to go for? If you want to snuggle up in a sleeping bag with your significant other, tent camping in Lake George might be for you. If you think you'd be more comfortable in a cabin, that can be equally as romantic, especially if you're new to the camping world.
Here at Lake George Campsites, we're one of the top Lake George campgrounds with cabins, offering your choice of 19 well-maintained, comfortable cottages. There are also 250 RV and tent camping sites.
New to camping? Check out our post on camping for beginners >>
2) Add Some Ambience to the Campsite
Bring some battery-powered string lights or small lanterns you can hang in your tent or around the campsite to bring out more of an intimate vibe. If you're tent camping, consider investing in a double sleeping bag, which you could also put an air mattress under for extra comfort.
A romantic playlist to listen to as you're setting up your campsite couldn't hurt, either! The collection doesn't necessarily need to be exclusively love songs, but ones that mean something to the two of you.

3) Cook Together (Or Dine Out)
All of our Lake George camping cabins have kitchenettes or full kitchens, so plan ahead for meals and cook together if you'd like! Each cottage features a small or four-person dining table, and some are conducive to patio dining as well. If you're tent camping, consider investing in a camping-friendly fondue pot. Fewer meals are more perfect for couples than fondue, especially if you're going with chocolate fondue.
However, if you would like to venture off the campsite, Lake George Campsites is positioned close to many reputable restaurants. We're less than five minutes from The Log Jam, with its stone fireplace and soft ambience (not to mention, the best salad bar in the region). Plus, we're within walking distance of Northway Brewing Company, and Martha's Dandee Creme is just down the road, across from Six Flags Great Escape. Grab a meal, a drink, or some ice cream together before returning to the campsite.
See more things to do close by >>
4) Bring a Board Game
Especially if you're staying in a cabin, bring a board game or some cards, either one you both love, or you could try something new. There are plenty of board games designed just for two, like Codenames Duet, Hive, or Klask. And, there are plenty of games that can accommodate more players, but are equally as enjoyable with just two people, like Ticket to Ride or Sagrada. A cooperative option where you work together, as with the Harry Potter Board Game or Pandemic, could also be nice.
According to a study from Baylor University in Texas, couples who play board games or engage in other recreational activities together release more oxytocin, also known as the love hormone. Cooperative or competitive, when you're taking part together in an activity like a board game, you're building a foundation for bonding and trust.

5) Plan for Stargazing
It can't be a romantic camping trip without looking up at the stars! Cuddle up together at your Lake George campsite and try to find Orion's Belt or the Big Dipper. Not only is simply nice to embrace nature together in this way, but some of the stories behind the stars are filled with tales of romance, like the Heart Nebula in the Milky Way.
Prepare for your stargazing by checking the weather forecast ahead of time and looking into common constellations you might be able to see. There are also numerous stargazing apps that can help you get started.
View our post on the best stargazing, hiking, and birding apps >>

6) Pack S'mores Supplies
S'mores and stars – does it get any better than that? Toast to your relationship – no pun intended – with chocolate, marshmallows, and graham crackers. Here at Lake George Campsites, we have many fire pits thoughtfully placed around the property, available for guests to use.
Although we're fans of the classic s'mores, feel free to get creative together trying out different kinds of chocolate bars or adding in fun ingredients like bananas or peanut butter, or switching out the graham crackers for Rice Krispies Treats.
Find more ideas for camp snacks >>

7) Watch the Sunrise Together
After an intimate night of gaming, stargazing, dining, and camping together, set your alarm to wake up early for a stunning sunrise. One of the best places in Lake George to see the sun rise is on Prospect Mountain. You could even take one of those couples picnic backpacks that have become popular in recent years, to enjoy a meal together at the top.
If you're not going to be up for a uber-early morning hike, you could simply make your way to Beach Road in Lake George Village, just under 10 minutes from Lake George Campsites. Sit on one of the benches and take in the gorgeous sun coming up over Lake George.
Book Between February 14 – 17, 2023 & Save on Cottages
Surprise your favorite person with a romantic camping trip at one our campsites in Lake George using the above tips, and we're sure you'll have an extraordinary time together. You may need to wait for your getaway until we open in May, but you don't have to wait to secure your campsite or cabin.
In fact, if you book between February 14 and 17, 2023 you can save 14% on our camping cottages.