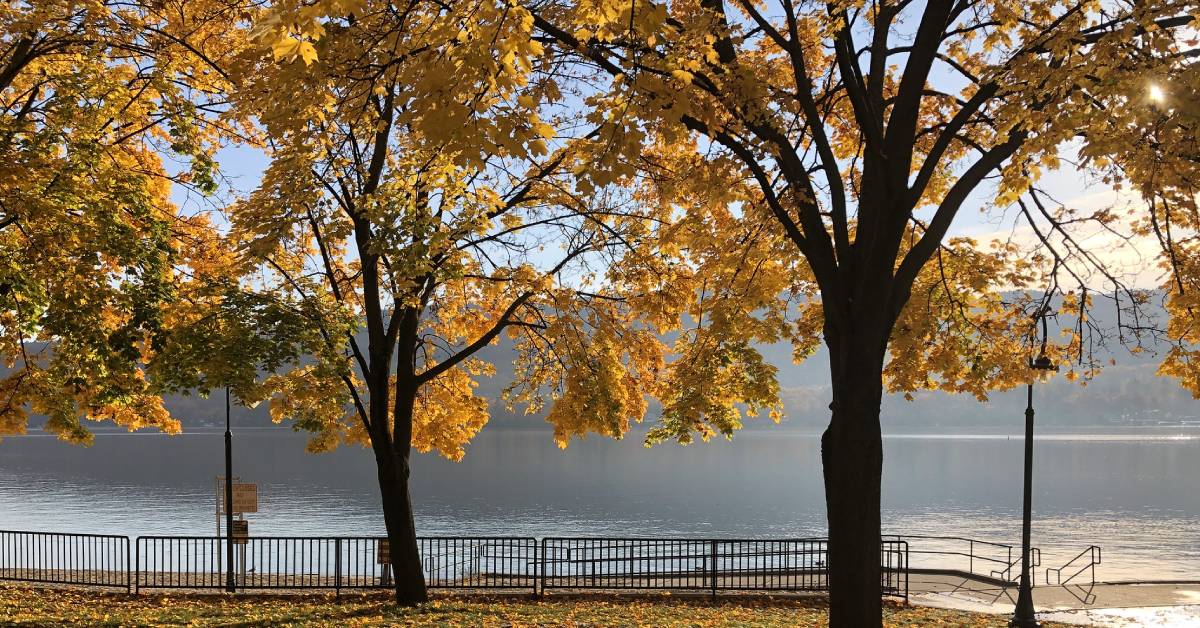 29 Aug

Fall Camping in Lake George? Yes, Please!

How long are Lake George campgrounds open? We here at Lake George Campsites enjoy the camping season through mid-October – for this year, the end date is October 15, 2022.
Whether you didn't get a chance to enjoy camping this summer, or you're hoping to extend the season, find out the major perks you'll enjoy when choosing Lake George Campsites in the fall.
Fewer Bugs, Cooler Temperatures & Less Chance of Rain
This is probably the biggest draw for many looking to camp in the fall: not as many insects, and the humidity and temps are down! Particularly at night, you won't be sweating inside your sleeping bag or camper.
In addition, September is typically a dryer month in this area than those of the summer, when pop-up storms are always a possibility.

Campfires Are Cozier & Campgrounds Less Crowded
Campgrounds in the Lake George, NY area tend to be super popular during peak camping time, which is the summer. But come September, while others are packing away their tents and sleeping bags, you could be snagging a sweet campsite spot with us – and an ultra comfortable evening stargazing by a roaring fire.
Want a fireplace instead? Many visitors look for Lake George campsite rentals that have fireplaces, and some of our cottages do, such as Iroquois. Learn more about our cabin rentals in Accommodations.
Not only will there be fewer people around come fall, with kids back to school and schedules changing, but you also may be more likely to secure a last-minute reservation with us.
Fall Hiking Is the Best – Especially With Foliage
The best Lake George camping spots are those close to hiking trails, and autumn is one of the best times to go hiking in this region. Not just because of the fewer bugs and cooler temperatures, but also because of the striking foliage.
Although the colors vary from year to year, and you'll want to check the current I Love NY foliage report, typically peak foliage occurs in the Lake George area during the first two weeks of October. Although, you can certainly see the beginning of the color changes before then.
Hiking trails near Lake George Campsites include Rush Pond Trail (2.6-mile trail pictured above, great for hikers and mountain bikers), Van Dusen Preserve (1.8 miles, but can be steep in spots), and Prospect Mountain, which can be accessed in the Village. Prospect Mountain is a 3-mile hike, but like Van Dusen, can get steep and rocky in spots, and so is considered more of a moderate rather than easy hike.
Note: While campgrounds may be less crowded in the fall, hiking trails and mountains are not. Hiking is incredibly popular in this region at this time of year! Make sure you plan ahead, arrive at the trailhead early, and maybe even have a backup plan in case the parking lot at your desired location is full.
Fright Fest, Balloon Fest & More Seasonal Lake George Fun
Those searching for campgrounds near Great Escape in Lake George, NY may only be taking summer into account, but they would be missing out. Six Flags Great Escape is a two-minute drive from Lake George Campsites, and they have Fright Fest running every weekend in October. Get ready for haunted attractions, rides, scare zones, and live entertainment!
Other popular Lake George events in the fall include the Adirondack Nationals Car Show over Labor Day Weekend, the Adirondack Balloon Festival in mid-September, and many more close by, like the World's Largest Garage Sale in Warrensburg, that takes place late September/early October.
Not to mention, many classic Lake George activities run through the fall and have a completely different vibe than the warmer months: cruises with the Lake George Steamboat Company, treetop adventures with Adirondack Extreme in Bolton Landing, and the many whitewater rafting companies in the area typically operate through fall. Even Parasailing Adventures goes through mid-September.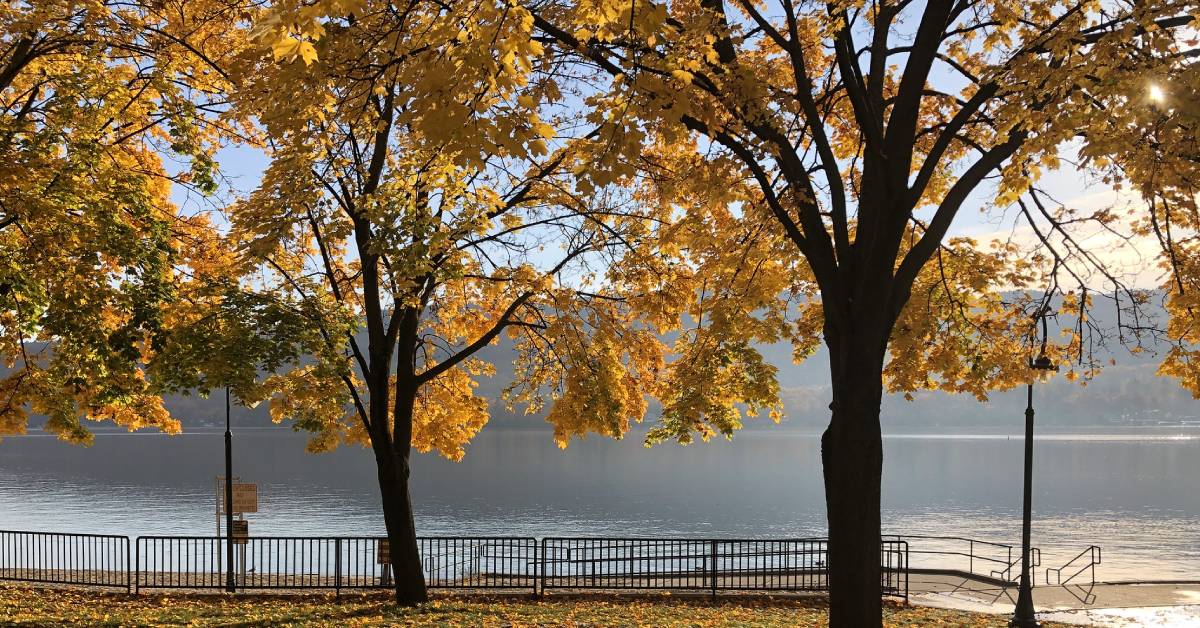 Even just walking around Lake George Village, only 14 minutes from Lake George Campsites, to soak in the foliage and maybe drink a pumpkin-flavored coffee could be the cherry on top of a perfect fall camping trip.
View nearby attractions to get more ideas >>
The Attractive Off-Season Rates
The final reason to come in autumn: some Lake George camping prices go down in the fall! Check out a breakdown of our in-season and off-season rates at Lake George Campsites. Especially if you're looking for RV camping near Lake George, NY you can reap the benefits of lower prices with us. RV campsites in Upstate NY can turn into foliage-filled sanctuaries, and if you can enjoy the crisp air and bright colors surrounding your camper at a lower price, all the better.
Off-season rates at Lake George Campsites are valid September 8 through October 15, 2022, and September 6 to October 15, 2023. (Note: Labor Day falls under Holiday Rates.)
Check current promotions as well >>
Camp in Lake George This Fall With Us
We're one of the best campgrounds in the Lake George, NY area for fall camping, because of our location in Queensbury. We're super close to Great Escape, within walking distance of Northway Brewing, and minutes from hiking trails and other area attractions conducive to a fall visit. When it comes to RV campgrounds in the Adirondacks, tent camping sites, or cabin camping, you can't beat the experience we offer at Lake George Campsites.
Bonus tip for pet owners looking to camp in the fall: Northway Brewing is not only dog-friendly on their patio, but indoors as well, just in case there is an autumn chill in the air! As a dog-friendly Lake George campground, you can bring your furry friend to hang with us, and around town. (Get more ideas on dog-friendly places to go in our FAQ.)