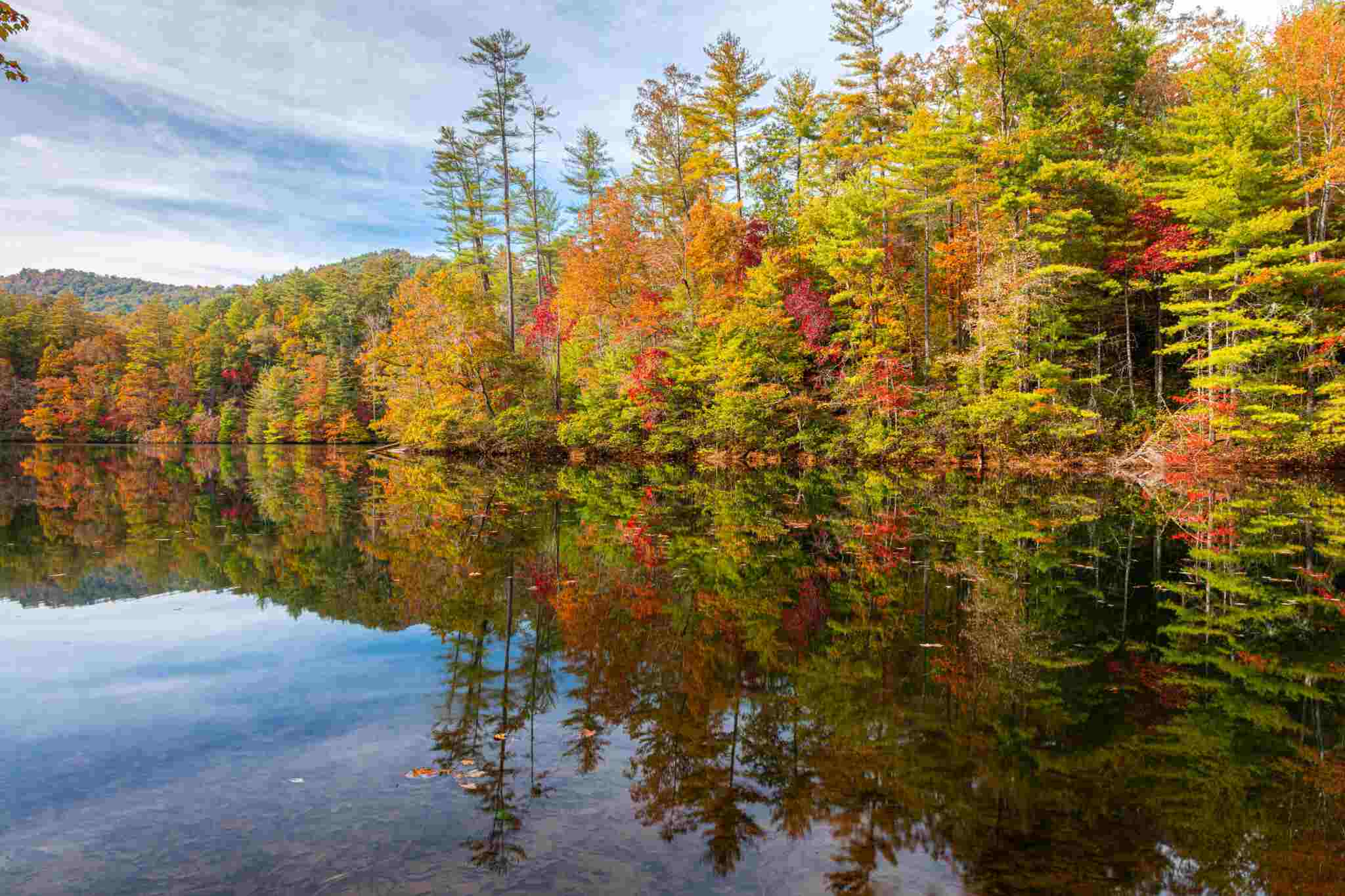 16 Sep

Lake George Campsites: Fall Leaf Peeping Guide

The Adirondack Region in New York has one of the longest fall foliage seasons in the country, which makes for a leaf peeping experience like no other. People travel from both near and far to get a glimpse of the vibrant hues of red, orange and yellow that transform the Adirondack Mountains into something quite spectacular. Autumn is just about here and Lake George Campsites wants you to be prepared to have the ultimate leaf peeping adventure (hopefully while staying at one of our campsites!).
Peak Fall Foliage Timeline
The fall colors really start to show themselves in the Adirondack Region near the end of September and continue through the end of October. Each area of the Adirondack Region has a peak time to check out the foliage for optimal colors and beauty so be sure to plan accordingly.
During the last week of September and the first week of October you will want to check out the Lake Placid Region, Saranac Lake Region, Tupper Lake Region and Whiteface Region.
During the first and second weeks of October you will want to check out the Lake George Region (that's where we are located!), Malone Region, and The Adirondack Hub (Schroon Lake, North Hudson, Minerva, and Newcomb).
During the third and last week of October you will want to check out the Lake Champlain Region, Adirondack Seaway and Adirondack Coast.
Be sure to check out the fall foliage report from I Love NY for a live look at the changing colors!
Tips & Tricks for Photographing Fall Colors
Lake George Campsites wants to make sure that you are armed with the skills and knowledge to get those perfect photos of the fall foliage for Instagram and Facebook to show off to all of your friends (because let's be honest, if you don't post it on social media did it even really happen?). Here are a few tips and tricks for photographing the Adirondack fall foliage. You don't even need a fancy camera, you can do it all from your phone!
Check the forecast before you make your trek (you don't want to get stuck in the rain!).
Shoot at sunrise for the best colors.
An overcast day makes for great lighting so don't let that scare you away.
Use the panorama setting on your phone to capture those sprawling mountains.
Bring a collapsible tripod for ease of shooting and to eliminate camera shakes (also makes for great selfies!).
Try shooting from different angles and include high and low shots.
Keep your eyes open for bodies of water. Autumn colors can make beautiful reflections in the water.
Don't forget to look up – there might be opportunities for some stunning photos where the trees meet the skyline.
Best Fall Hikes Near Lake George Campsites
Hiking can be a great opportunity to experience the fall foliage in the Lake George area and there are a number of great hikes located right near Lake George Campsites. The stunning views from the mountain tops in the area are something that everyone should experience. Hiking trails near Lake George Campsites include Rush Pond Trail (2.6-mile trail, great for hikers and mountain bikers), Van Dusen Preserve (1.8 miles, but can be steep in spots), and Prospect Mountain, which can be accessed in the Village of Lake George. Prospect Mountain is a 3-mile hike, but like Van Dusen, can get steep and rocky in spots, and so is considered more of a moderate rather than easy hike.
Note: While campgrounds may be less crowded in the fall, hiking trails and mountains are not. Hiking is incredibly popular in this region at this time of year! Make sure you plan ahead, arrive at the trailhead early, and maybe even have a backup plan in case the parking lot at your desired location is full.
Don't Feel Like Walking or Hiking?
If hiking is not your thing, don't fret! There are many opportunities to enjoy all the stunning fall colors from the comfort (and warmth) of your own vehicle.
Downtown Lake George
You can view Lake George and its surrounding forests and mountains from the shoreline in the village's parks or from Fort William Henry. Just a short drive from Lake George Campsites!
Prospect Mountain
While you can hike to the top, there's also the option to drive up the mountain and see the amazing views without having to break a sweat. Prospect Mountain is located in Lake George and just a few minutes drive from Lake George Campsites.
Route 86
Route 86 is one of the major roads through the Adirondacks and passes through some of the most beautiful parts of the region. Driving along this route you will find small waterfalls, stunning views of Whiteface Mountain, and many Instagram-worthy roadside spots to make a stop at.
Lake Pleasant
Lake Pleasant is a small community in the southern Adirondack Region. It's a bit of a drive from Lake George Campsites, but completely worth it. If you are looking for one spot to park, be sure to check out the beach on the northern end of Lake Pleasant which provides unbelievable views.
Take Advantage of Off-Season Camping Rates
Not surprisingly, many search for campsites in the Adirondacks of NY during the fall so they can enjoy their favorite activity amongst the foliage. We have good news for you fall campers: some Lake George camping prices go down in autumn!
Check out a breakdown of our in-season and off-season rates at Lake George Campsites. Especially if you're looking for RV camping near Lake George, NY you can reap the benefits of lower prices with us.
Off-season rates at Lake George Campsites are valid September 8 through October 15, 2022, and September 6 through October 15, 2023.
Bonus: If you're looking for campgrounds near Great Escape in Lake George, NY we are just down the road, and you can take advantage of Fright Night, A Taste of Oktoberfest, and more seasonal fun at this popular theme park.
Ready to Plan Your Fall Camping Adventure?
If you're looking to explore Lake George and the Adirondacks make Lake George Campsites your camping destination. We have RV hook-up sites, tent sites, and beautifully renovated cottages (for those looking for a glamping experience). Check out all of our accommodation options  and make us your home base during your leaf peeping excursion! Remember that we close for the season on October 15, but you can get a head start and book your 2023 camping adventure!