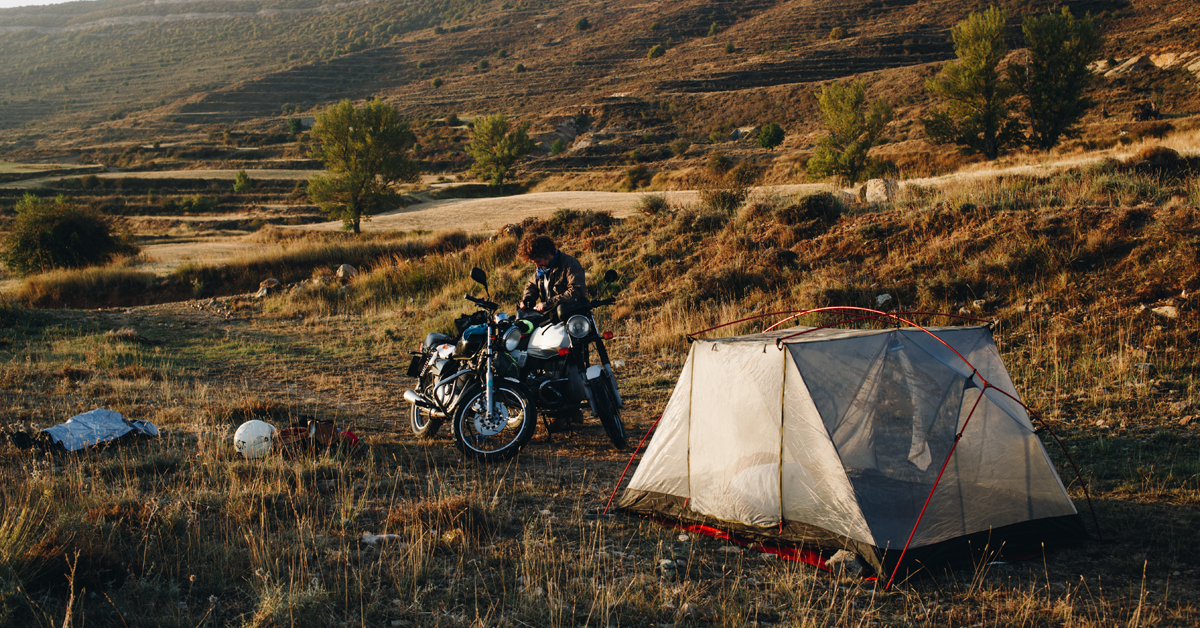 27 Mar

Motorcycle Camping Hacks for a Stress-Free Experience

If you are a motorcycle aficionado you know that riding your bike with the wind blowing beneath you is a freeing feeling like no other. Motorcycle camping adds a layer of adventure. Imagine a night under the stars after a day out on the open road.

There is a lot to consider when planning a motorcycle camping trip and we've compiled some tips and tricks that will have you camping like a pro in no time! Check them out below and then make your Lake George Campsites reservations – we're minutes from Americade in Lake George, happening May 30 – June 4, 2023.
---
Step one is to determine what type of camping you are interested in.
The most common campsite used for motorcycle camping is an established campground with amenities. Most established campgrounds are accessible for all types of bikes. Amenities will of course vary by location, but some common amenities include bathrooms and showers, laundry facilities, firepits, etc. Be mindful that popular campgrounds will fill up quickly so be sure to plan ahead and book your reservation far in advance.
Primitive camping may be preferred if you are a more experienced camper or if you are an off-the-grid type. Primitive camping is exactly as its name describes – camping with no amenities. No running water, no bathrooms, and no firepits. This type of camping is often done on public lands such as state forests or land preserves.
Make sure you understand the principles of Leave No Trace before you camp to help preserve the land and surrounding nature. And make sure you do your research on where primitive camping is allowed before you make the journey.
Glamping is a great option for those who want an amenity-filled and stress-free camping experience. Glamping could be staying in a cabin, yurt, teepee, or tree house. You will have access to creature comforts like air conditioning, electricity, and running water and elevated luxuries like comfortable beds, kitchens, private showers, and more.
No need to pack a tent or set up camp. Glamping typically comes with a greater price tag than traditional camping but is a great option if you want to get away for a few days without packing a ton of stuff.
There are tons of resources out there like Campendium, Hip Camp, and Recreation.gov to help you figure out where you want to stay and in what type of accommodation.
---
Where you are staying will determine what you need to pack.
Unless you will have a bed where you are camping, a good sleeping bag is critical. Sleeping bags differ in the materials they are made out of a temperature rating. Make sure you do your research and select an option that makes sense for the climate where you will be camping. Ease of packing is another important factor when purchasing a sleeping bag for a motorcycle trip.
If you won't have shelter at your campsite you will need to pack something to protect you from the elements. A family-sized tent is a great option as they are spacious and will have enough room to shelter both you and your bike. They can be pretty bulky to pack though.
A backpacking tent is a great option as they are extremely compact when disassembled and easy to travel with. There are even options like a portable cot that also provides shelter. If you don't want to pack a tent there are other options as well.
A simple tarp can do the trick when strung up over a tree or even a hammock. Mad or Nomad has a great guide featuring the best motorcycle camping tents – be sure to check it out.
If you are planning to cook your food while you are camping you will need to consider what type of camp kitchen setup will work best for you. Some campsites provide grills or firewood and/or firepits so be sure you know what will be available to you. Research if there's a grocery store or market nearby to purchase fresh ingredients.
Unless you plan out eating out for every meal (which can get very expensive) we recommend carting an extra luggage bag dedicated to food items and accessories.
We also recommend carrying some sort of water canister. Fresh water is absolutely essential when camping – you need it to cook, wash, and drink. It's safest to fill a container of water and take it with you so you know where it came from. Depending on where you are traveling it may be a good idea to pack some sort of water filtration product.
A small propane canister and camping stove are essential for doing your cooking while camping. Additionally, there are loads of camping-specific pots and pans that are designed to save space and withstand an open flame. And don't forget the cutlery!
This article from Ride To Food has some great gear options for motorcycle camping. It's a great place to get some inspiration as you prepare for your first trip!
---
Packing your gear is an art form.
Every motorcycle will have different options for luggage and storing your gear, but there are a few things to keep in mind no matter what. Store all of your camping gear in a waterproof bag. There is nothing worse than arriving at camp with a soggy sleeping bag.
Make sure that your gear is safely and securely mounted to your bike and that the weight of your luggage is distributed as evenly as possible. Pack your heaviest items first and pack them low on the bike and between the wheels. Lighter items can be packed higher up on the bike or behind the rider. A motorcycle luggage rack is a good investment and provides a place for you to set and strap in lighter bags.
It may take a few tries to get it right. Practice packing everything up before you take your trip.
If you are packing fuel canisters for cooking or any other flammable item, be sure that you store it somewhere that sits away from your bike exhaust. You want to make sure that these items don't heat up if your luggage shifts during travel.
---
Check your bike's maintenance before you hit the open road.
When was the last time you had your oil changed? Was your oil filter replaced recently? How do your tires look?
It's a good idea to have a mechanic take a look at your bike before you get out on the open road to make sure it's in tip-top shape. Also, make sure that your inspection and registration are up-to-date.
---
A couple of other tips.
Try and stop earlier in the day when you are camping. Setting up camp can take a bit and it's much easier to do in the daylight. Cooking in the dark can also be a pain and any light you use will attract all sorts of bugs.
Remember that it can get chilly at night no matter where you are. Pack an extra scarf or hat to ensure you stay nice and toasty at night.
Throw a can of insect repellant into your pack. You will be glad that you did.
Only bring what you need! Simple in theory, and difficult in practice, but it will pay off tenfold. Get creative – see if you can imagine everything you pack having more than one use.
---
Motorcycle camping is great at Lake George Campsites.
We are motorcycle friendly at Lake George Campsites and have all the amenities that you need including laundry facilities, bath houses, dishwashing stations, a fully-equipped camp store, and more. Whether you are popping a tent under the stars or enjoying the comforts provided in our cozy cottages, you will surely have an adventure to remember. We're also within walking distance or a quick ride to all that the Lake George region has to offer. Check us out and book your stay today!