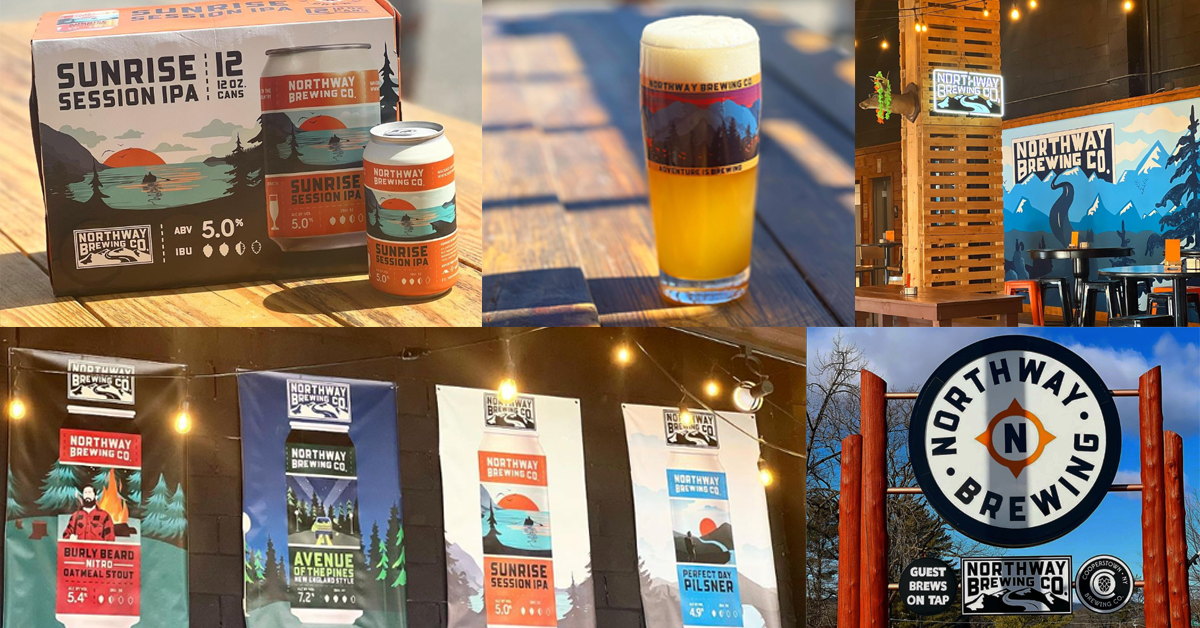 25 Apr

Q&A with Northway Brewing Co.

If you haven't stopped by Northway Brewing Co. in Queensbury, you are missing out. We might be slightly biased since they are our next-door neighbors, but it's absolutely worth a visit to their taproom. Their brewery features a 3,000-square-foot taproom, a large outdoor seating area, and all the beer your heart desires. Plus, they have delicious grub from the local BBQ joint Streaking Moose BBQ, which parks its food truck in the parking lot several days a week.

We sat down with Ryan Wood, Assistant General Manager, to ask him ten questions about all things beer, business, Lake George, and more!
Q: Tell us the quick history of Northway Brewing Co. and how it all began…
A: Originally, this location was known as Lake George Brewhouse, where we contract brewed for other breweries, including our sister brewery Cooperstown. The Northway brand itself was born in 2018ish, and we haven't looked back, brewing all styles under our name and continually brewing batches for Cooperstown.
Q: How is your beer connected to the local area?
A: Much of our artwork, names, and marketing represent the local Upstate Region, where we are located. We enjoy our region and like our beers to showcase that!
Q: How do you come up with new flavors?
A: Between our staff out back in the brewery and us in the front, we circulate ideas, flavors, and styles. We have the luxury of having a smaller "pilot system" to test out new ideas and debut new brews here in our Taproom. If we find a small batch is successful, we decide as a group whether it can come out of the larger system and eventually make it into the market.
Q: What is unique about Northway Brewing Co.'s beer?
A: Many breweries out there specialize in IPAs, sours, or stouts. Our brewing team has a great ability to churn out any style, and therefore when someone new comes to the Taproom, they're almost guaranteed to find something they find enjoyable to drink.
Q: Who does the artwork for your cans?
A: Our core beers are done by Black Dog Designs. The rest are a mix of local artists we've met along the way and in-house design.
Q: You've collaborated with Death Wish Coffee and Saratoga Tea & Honey. Any other local collabs on the horizon?
A: Yes! Stay tuned for more on that front. We've also collaborated with Argyle Cheese Farmer, Cooperstown Distillery, and Damn Good Jerky.
Q: You do a number of events in your taproom, from trivia to release parties and live music. What's on the docket for this spring/summer? Our campers would love to know.
A: We'll have music every week, trivia on Thursday evenings, a Summit Beer Day event on 5/20, and more to come! Everything is updated daily on Instagram and Facebook.
Q: What are your favorite summer activities in the Lake George area?
A: Hiking, mountain biking, and of course, summit beers. If you're unfamiliar with the tradition, a summit beer is when you crack open a delicious, crisp brew and imbibe at the top of the peak you just climbed. There really isn't anything better.
Q: Consumers like to support organizations that give back. What charitable initiatives does Northway Brewing Co. support?
A: We are connected to Brewnited, a 501(c)(3) that was started at the beginning of the Covid-19 pandemic to help out local workers in the hospitality industry. Their mission is to help lessen the negative input Covid-19 has brought to our local community through direct payments.
Q: You can only have one beer for the rest of your life. What is it, and why?
A: Probably a pale Lager; it's an every day, anytime beer.
---
Be sure to stop by Northway Brewing Co. the next time you are in town! And if you are looking for accommodations in the Lake George area, we've got you covered at Lake George Campsites. With cozy cottages, full hookup RV sites, and tent sites, there's something for every type of camper. We're also one of the best Lake George camping spots for dogs because of our pet-friendly policy, and our proximity to Northway Brewing Co., who allows dogs on their patio! Plus, we've got all the amenities you need for a memorable family vacation. Book your stay today.